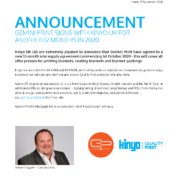 Kinyo UK Ltd are extremely pleased to announce that Gemini Print have agreed to a new 12-month sole supply agreement commencing 1st October 2020 – this will cover all litho presses for printing blankets, coating blankets and blanket packings.
/
por cms-admin
https://kinyo.de/wp-content/uploads/2020/11/Kinyo_Announcement-Gemini-171120.jpg
1754
1240
cms-admin
/wp-content/uploads/2018/09/kinyo_600x156_white.png
cms-admin
2020-11-18 17:37:06
2020-11-18 17:45:39
GEMINI PRINT SIGNS WITH KINYO UK FOR ANOTHER 12 MONTHS IN 2020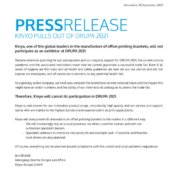 A pesar de una extensa planificación para nuestra participación y nuestro continuo apoyo a DRUPA 2021, la actual situación de la pandemia y las restricciones asociadas hacen que no podamos garantizar una feria exitosa. Aunque estamos dispuestos a adaptarnos a los mejores estándares de higiene a todos los niveles y a las estrictas medidas de seguridad, no podemos y no queremos exponer a nuestros empleados, y por supuesto tampoco a nuestros clientes, a ningún riesgo potencial para su salud.
Como empresa activa a nivel mundial, también nos vemos obligados a considerar las restricciones en los viajes internacionales y el impacto que podrían tener en el número de visitantes y en la posibilidad de asistencia a la feria de nuestros compañeros internacionales.
Por consiguiente, Kinyo cancela su participación en DRUPA 2021.
/
por cms-admin
https://kinyo.de/wp-content/uploads/2020/10/Kinyo_PressReleaseEN_300920.jpg
822
595
cms-admin
/wp-content/uploads/2018/09/kinyo_600x156_white.png
cms-admin
2020-10-14 13:14:48
2020-10-14 13:43:22
KINYO SE RETIRA DE DRUPA 2021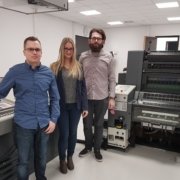 Kinyo sponsors the technical School of printing and media technology. The new Albrecht-Dürer Berufskolleg in Düsseldorf was opened in the summer of 2018. The construction time of the new building complex was almost one and a half years. The room is a bright, modern and transparent design with investments made in new technology. The Berufskolleg […]
/
por Anne Just
https://kinyo.de/wp-content/uploads/2019/07/Sponsoring-Techniker-Schule_2.jpg
2647
3528
Anne Just
/wp-content/uploads/2018/09/kinyo_600x156_white.png
Anne Just
2019-07-03 10:25:12
2019-07-03 10:28:12
Kinyo supports technician school in Düsseldorf