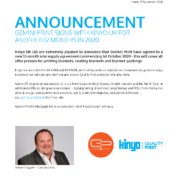 Kinyo UK Ltd are extremely pleased to announce that Gemini Print have agreed to a new 12-month sole supply agreement commencing 1st October 2020 – this will cover all litho presses for printing blankets, coating blankets and blanket packings.
/
par cms-admin
https://kinyo.de/wp-content/uploads/2020/11/Kinyo_Announcement-Gemini-171120.jpg
1754
1240
cms-admin
/wp-content/uploads/2018/09/kinyo_600x156_white.png
cms-admin
2020-11-18 17:37:06
2020-11-18 17:42:59
GEMINI PRINT SIGNS WITH KINYO UK FOR ANOTHER 12 MONTHS IN 2020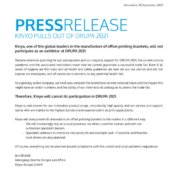 Malgré une préparation intense à cet événement majeur et un soutien sans faille à la DRUPA, l'épidémie de Coronavirus et les restrictions qui y sont associées ne nous permettent pas de garantir la réussite de notre participation à l'exposition. Même avec un niveau de précautions maximum au niveau santé et un respect scrupuleux des instructions de sécurité, nous ne souhaitons pas exposer nos employés et bien sûr, nos clients à un risque pour leur santé. De plus, en tant que groupe international, nous devons également prendre en considération les éventuelles restrictions de déplacement, et l'impact que celles-ci pourraient avoir sur le nombre de visiteurs et la capacité de nos collègues à pouvoir se rendre à l'exposition.
En conséquence, Kinyo annule sa participation à la DRUPA 2021.
/
par cms-admin
https://kinyo.de/wp-content/uploads/2020/10/Kinyo_PressReleaseEN_300920.jpg
822
595
cms-admin
/wp-content/uploads/2018/09/kinyo_600x156_white.png
cms-admin
2020-10-14 13:14:48
2020-10-14 13:39:51
KINYO SE RETIRE DE LA DRUPA 2021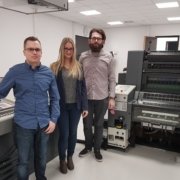 Kinyo sponsors the technical School of printing and media technology. The new Albrecht-Dürer Berufskolleg in Düsseldorf was opened in the summer of 2018. The construction time of the new building complex was almost one and a half years. The room is a bright, modern and transparent design with investments made in new technology. The Berufskolleg […]
/
par Anne Just
https://kinyo.de/wp-content/uploads/2019/07/Sponsoring-Techniker-Schule_2.jpg
2647
3528
Anne Just
/wp-content/uploads/2018/09/kinyo_600x156_white.png
Anne Just
2019-07-03 10:25:12
2019-07-03 10:27:52
Kinyo supports technician school in Düsseldorf